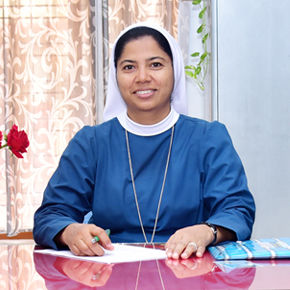 Sr.Rosa Jacob
According to Swami Vivekananda 'Education means that process by which character is formed, strength of mind is increased and intellect is sharpened as a result of which one can stand on one's own feet'.
Yes, St. Joseph's EM School lays stress not just on academic excellence but on "Character formation with academic excellence". I believe that a child will be successful in life, if we accept him/her as they are and inspire them to become what they want to become. They want to be loved, appreciated and to respect their individuality.
I wish and pray that the students of St. Joseph's School may imbibe the qualities of human values and become socially and intellectually competent, morally upright and emotionally balanced.
Dear Parents /Guardians, I thank you for constantly supporting us in every step we take and reposing your confidence in us. Thank you for entrusting us with the future of your wards. Together we can achieve the dream that you have for your wards. I assure you that every child who has entered St. Joseph School with its motto "Strive with Wisdom ", will certainly reach the heights of Glory.