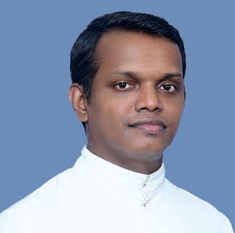 Fr Paul Percy D'silva
"One child, one teacher, one book, one pen can change the world." These are the words of Malala Yousafzai, a Pakistani female education advocate and women right's activist who became the youngest person to receive the Nobel Peace Prize.
St Joseph's English Medium School has been a beacon of knowledge for the past years. Academic excellence along with Co-curricular and extra co-curricular activities completes the process of education. And it gives me great satisfaction that the school is progressing in all its endeavors towards the overall development and personality of the students. Let St Jospeh, Our Patron Saint, intercede for us.